General Event Information

We welcome new and previous entrants alike to the 35th GWC as we set out to raise funds for Highland Hospice and other associated, local and national charities. Since 1986 the event has raised over £4 million and we look forward to increasing this total in 2021.
DATE
Saturday 14th August 2021
EVENT HQ
Poolewe Hall GR 859809 Registration, toilets/showers, food, prizegiving, evening ceilidh/dance
ROUTES
25 miles Dundonnell to Poolewe (walking or running)
13 miles Aultbea to Poolewe (walking or running)
13 miles Circular from Poolewe (walking only)
7 miles Circular from Poolewe (walking only)
10k Run from Poolewe
Limited Mobility Routes:
2.8 miles Poolewe – Inveran return (walking only)
1.4 miles Inveran - Poolewe (walking only)
ROUTE CHOICES
The 25 miler is a strenuous route in amazing surroundings, requiring serious fitness preparation. The 13 and 7 milers, though less arduous, equally capture the wilderness atmosphere, and are suitable for most levels of fitness and ability.
We introduced a shorter race in 2019 which proved very popular and will be continued in 2021. An ideal wilderness "taster" for fledgling runners, runners recovering from injury, runners unable to run the longer routes due to limited training - and of course runners of a "certain maturity" looking to downsize! It is a 10k run based on the same route as the current 7 mle circular walk, starting and finishing in Poolewe.
The limited mobility routes are suitable for anyone who has mobility problems or a disability which prohibits them for taking part in the longer events. Entrants may take part along with a carer if required. In addition to the normal safety cover in place we will have manual wheelchairs available for use in an emergency and additional marshals along the route to assist as required. Please contact us if you require any additional information as to the suitability of these routes.
Whichever option you choose we hope the Challenge will be a wonderful experience for you and ultimately a rewarding one for our chosen charities.
ROUTE MAPS
Detailed maps of all routes are available on this website and will also be printed in our event newsletter. We also recommend Ordnance Survey Landrager 1:50000 Sheet 19 Gairloch and Ullapool map which encompasses all the routes and includes much additional information besides.
TIMETABLE
| | | | |
| --- | --- | --- | --- |
| Route | Registration | Buses | Start |
| 25 Walk | 6.15am | 7.30am | 8.30am |
| 25 Run | 8.00am | 9.15am | 10.30am |
| 13 Aultbea | 9.00am | 10.00am | 10.30am |
| 13 Circular | 9.30am | n/a | 10.30am |
| 7 Circular | 10.00am | n/a | 11.00am |
| 10k Run | 9.30am | n/a | 10.30am |
| Limited Mobility 2.8 | 11.00am | n/a | 11.30am |
| Limited Mobility 1.4 | 11.00am | n/a | 11.45am |
**25 Mile Walkers Please Note – Cut off time is 5pm at Kernsary. This allows an approx time of 9 and a half hours to complete the whole route. If you feel unable to complete in this time please consider entering one of the smaller events. Anyone not at Kernsary by 5pm will be offered transport back to Poolewe or the option to continue at their own risk. No responsibility can be taken by the organisers for entrants who decide to continue on their own.
AT FINISH
Medals, fluids, First Aid. Free massage available.
Hot and cold food served in Hall from midday until close of event for all entrants and marshals.
ENTRY DETAILS
Entry Fee:
| | |
| --- | --- |
| Adults - 25 mile route | £22.50 |
| Adults - All other routes | £18.00 |
| Children 12 - 17 years All routes | £10.00 |
| Children under 12 years** All routes | Free |
** Children under 12 yrs must be accompanied by a named adult who is responsible for them at all times. No liability can be accepted by the GWC for their safety.
Pre- entry only – strictly no entry on the day
Entry forms are available for completion/download online via our website or by post from:
Pat Ross
Tel: 01445 731 516
Email : registration@greatwildernesschallenge.info
Please note entry fees are non refundable. In the event of cancellation your entry fee will be donated to our nominated charities.
RUNNING AGE LIMIT
All runners in both 25 and 13 mile races must be aged minimum 18 years on the day of the event. No exceptions can be made - we are affiliated to Scottish Athletics and must abide by their rules
Minimum age for 10k Run is 16 years on the day of the event.
FUNDRAISING PLEDGE
Each GWC entrant submitting the entry form pledges to raise sponsorship. Our target is a moderate minimum of £100 for adults and £50 for 12-17year olds. The average sum raised by participants in recent years has exceeded £300 per person.
As a registered charity we are able to claim Gift Aid on all eligible donations. Please help us to increase our fundraising total by asking all of your sponsors to sign the Gift Aid declaration where appropriate.
Alternatively if you are a UK taxpayer and are making a personal donation rather than obtaining sponsorship we would urge you to complete our Single Donation Gift Aid form - available to download here.
All sponsorship raised by participants will be split between our nominated charities.
We regret we are unable to allow participants to raise money for any other charities of their own choice.
We have teamed up with Just Giving and you can create a fundraising page with them when you register online. You can then share this with friends and family to help make fundraising easier.
In addition Sponsorship Forms are available to download from our website.
We appreciate that in the current economic climate raising sponsorship is difficult however as we are primarily a fundraising event please be aware that places in subsequent years will be offered firstly to those who have met or exceeded the fundraising target.
RULES OF ENTRY
By submitting entry form each entrant agrees to our Rules of Entry
SAFETY PROVISION
Marshals and First Aid at each checkpoint; Dundonnell Mountain Rescue; HM Coastguard; Emergency Helicopter on location throughout; Event Doctor;
EQUIPMENT
All walkers must carry wind/waterproof cagoule and overtrousers, spare sweater, suitable footwear for rough terrain, emergency food, first aid kit.
All runners must carry wind/waterproof full body protection as specified in SAF rules. Full details in event newsletter.
Spot kit checks may be carried out at Poolewe and Corrie Hallie. Entrants inadequately equipped may be refused entry
NEWSLETTER
All entrants will receive a pre-event newsletter in late July which will include all relevant information on the event – route details, route maps, full timetable, equipment, sponsorship etc.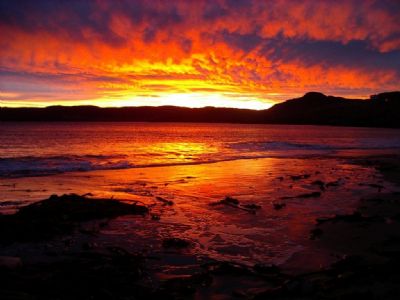 Loch Ewe sunset from Poolewe