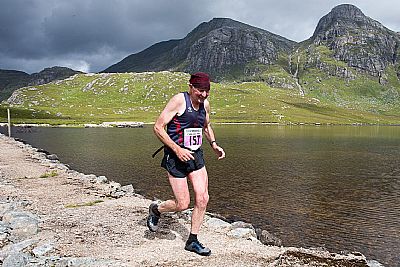 Alex crossing Carnmore causeway on 15th August 2015
Alex Brett was a favourite son of the GWC, a person we loved meeting up with each year. His engaging and amiable personality immediately shone through, with a friendly sense of humour to match. He only missed one GWC since his first in 1988, often accompanied by his trusty golden lab Struie on the 25 mile race. Recently, due to advancing years, Struie was unable to take part with his master, so Susan became his willing carer for the day, until Alex finished his race.
The tragic accident in Glen Torridon has left a mark on his many friends at the Challenge and beyond, and we are all the poorer for his passing. He will be missed. We extend our wholehearted sympathy to his extended family in their sad loss.